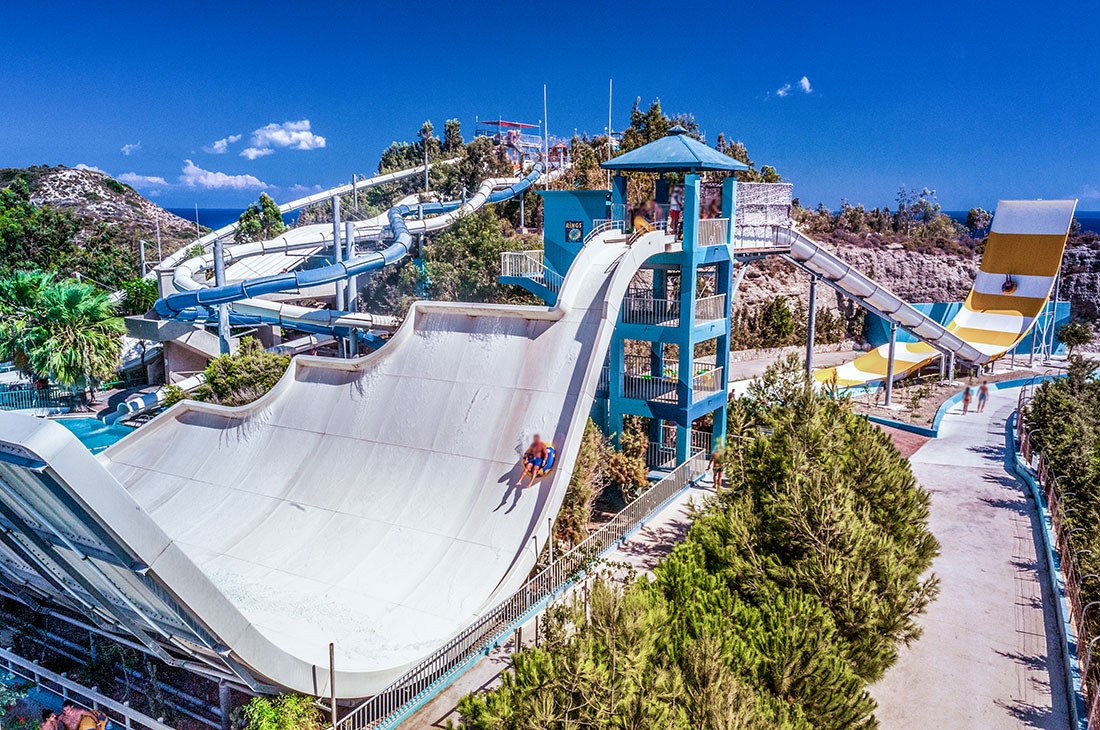 June 25, 2021
Water-Park Faliraki promises a day of endless water adventures for the entire family! Get into the zone of the most thrilling water fun and enjoy a day in the summer sun of Rhodes full of adrenaline-pumped leisure! With exciting courses for all ages, at Water-Park, fun is a family affair to keep you entertained all day long!
A big variety of waterslides, lazy river, kids area, wave pool, snack bars and much more!
Exciting family races and thrills for all ages await you and your family for a day of amazing entertainment under the sun! Wacky spirals, crazy rides and super-tumbling splashes promise an unforgettable family day you and your kids will never forget!
Opening Hours 2022
Low Season May, September, October 10am – 6pm
High Season June, July, August 10am-7pm
Safety
For your safety within the Water Park:
All waterslides and pools are monitored by perfectly trained members of our staff.
Lifeguards and medical staff are present at all times.
Whatever inflatable items brought in by client will, prior to any use on the Water Park premises, have to have previously been safety-cleared by our safety monitoring staff.
No glassware and alcoholic beverages are allowed on the premises of Water Park.
Children under 10 years old must be accompanied by an adult.
Be sure to wear appropriate swimwear (short pants or garments featuring metal buckles, rivets, zippers or rings are not allowed).
Children lifejackets are being provided at the "Guest Relations booth".
No running on Water Park premises!
No diving allowed in any of Water Park pools!
There is a set of specific safety rules to be observed for every Water Park game or activity. Be sure to observe such rules at all times!
You have an obligation to comply with the instructions given by the safety staff members.
Participation in certain Water Park activities is conditional on a good physical condition as well as on specific age
Please be aware that
JEWELERY, WATCHES, ZIPPER-EQUIPPED SWIMSUITS OR SHARP OBJECTS WHILST USING THE GAMES, ARE STRICTLY FORBIDDEN.
NO ACCESS TO "KAMIZAKE", "FREE-FALL", "TURBO", "SPACE BOWL WATERSLIDE" AND "TWISTER SLIDES" ALLOWED TO CHILDREN UNDER 12.
CHILDREN UNDER 8 MAY USE THE "STINGRAY SLIDE" AND "HEAD FIRST MAR RACER SLIDE" IF SO CONSENTED BY THE ADULTS ACCOMPANYING THEM.
Waterpark remains open even at times of drizzle. No operation on the site is possible if thunderbolts are expected. No refund of entry fees is provided in case of rain or unsettled weather.
Here are some useful tips for you to make the most of your stay on the Water Park premises.
Avoid sunburns by using sun screen products all the time.
Drink lots of fluids to prevent your body from being dehydrated.
The surface of all paved areas within the Water Park premises is bound to be quite warm. Wearing short socks or water shoes could be a solution to avoid sore foot plants: you may buy yourself a pair at the Super Market located next to the entrance of the Water Park.
Store your personal belongings in the lockers which are located next to the Super Market.
Use Splash Cash – the complimentary access wristband which is being provided to you during your entrance at the Water Park may also be used for payments on the territory of the Water Park.
Rates:  Entrance fee From 12 y.o.  25 Euro
3-11y.o.  17 Euro     Up to 3y.o. free of charge